Two weeks ago, I had a rare and random weekend day off. Brandon and I planned on meeting up for brunch. It was a beautiful sunny summer day. We agreed to meet at his apartment and drive to a local Cajun restaurant together. As I walked up to his sidewalk, a huge bird standing in the yard caught my eye. A hawk! It was eyeing me suspiciously, and moving its feet slightly. I knew it was going to take off at any moment, so I slowed my pace, enjoying the birdwatching experience for as long as I could. When I got too close for its comfort, it lifted off the ground and flew off, revealing a barn swallow in its clutches. Sad, existentially depressing, but nonetheless I appreciated the little bit of nature thrust into my over-urbanized life.

Brandon was car-sitting his mother's silver Subaru while she was on a weekend adventure with some friends, so we took that to the Cajun Cafe. I had blueberry pancakes with simple syrup and a large hot chai - I was happy to discover that they have the best chai in town. Brandon had a crawfish omelet and coffee. The conversation was great, and while I always look forward to spending time with Brandon, there just seemed to be something particularly optimistic in the air. We discussed going to the local zoo, where Brandon has never been. We talked about going shopping. Then I suggested we go to the Maker's Market, a small crafters fair at the Red Raven Espresso Parlor. Brandon was as excited about it as I was, so we paid our bill and headed out.

There isn't much parking at the Raven itself, so we parked down a street at the end of the block. We happened to park right in front of a cat shelter called Cat's Cradle; the very cat shelter that formerly was PAAWS, where I got Sunny. They had moved into another building and made quite a few changes. Brandon said, "Hey, want to go in and check it out?" Of course you know what my answer to that was.

We were instantly greeted by a litter of six kittens being played with by prospective adopters, and one of the volunteers asked if we'd been there before. I mentioned that I had adopted Sunny from them. She said, "Speaking of big cats, if you want to see a REALLY big cat, check out Columbus in room 7!"

We followed one of our former English professors who happens to volunteer there down the hall. We walked into the room, set eyes on Columbus, and I believe I squealed. He was a huge cat, indeed; very similar to but even bigger than Brandon's huge cat, Riley. Columbus was unhealthily obese, which sadly in a cat is actually quite adorable.

Brandon knelt down and started petting him while Dr. Frederick started telling us about his personality. She told us how laid back he was, never getting riled up or lashing out even when the other cats did. She talked about how he'd been there since last October; how a family had put a "hold" on him and several other people had inquired about adopting him in the meantime, but the people who put a hold on him never came and got him, and strangely the shelter hadn't had anyone inquire about him since.

Columbus was sitting on a chair, paws tucked in under him reservedly. He looked like a sleek gray watermelon, stripes and all. Cat's Cradle is a wonderful shelter, but it's not a home, and the body language of this big cat was that he was stressed out, bored, institutionalized. He shed easily, he was dusty from all the dander and litter in the air. Though he was awake, he never once fully opened his eyes. But he softened a bit as Brandon pet him. I took out my phone to snap some pictures, knowing full well what was about to happen.

Columbus needed someone to give him a happy home where he would be taken care of; fed the right amount of the right food, brushed, snuggled, loved. There was no doubt in my mind that Brandon was the right person to do it. He had been talking about getting Riley a friend for the better part of a year, but for some reason had never actively looked for one. Columbus was perfect. When Brandon started scratching him under the chin, he stretched his neck out in the sweetest bliss. We instantly loved that cat so much, and Brandon was in the ideal position to open his life to him. So he did just that.

He applied to adopt him, right then and there!

While I was once a romantic and quite optimistic of the notion of fate, I don't really believe in it anymore. But the power of that chain of events - the chance visitation, the instant direction into Columbus's room, the sudden rush of love and purpose that charged the air when Brandon knelt in front of him, and the empty spot in Brandon's apartment that seemed to be just waiting for Columbus all along - it really feels like it was meant to be. For the first time in a very long time, my lack of faith took a hit and had to give a nod to providence.

Brandon and I spent the afternoon getting supplies for him, then returned in the early evening to take him home. He walked right into the kennel willingly, without any type of fuss. Once he was outside, he looked around with alertness; it was the first time we'd seen his beautiful golden eyes. He didn't whine or struggle. He seemed nervous, but collected and curious. The mark of a very intelligent cat, I suspect.

At Brandon's, he strolled out of the kennel, sniffed Riley, and started exploring. His playful side came out. He'd seemed so weary at the shelter, when they told us how young he was, we couldn't believe it. Once he was home, we could see the kitten shining through!

After some deliberation, we renamed him Bronny Bear. He helped us decide; as we threw out names, I said, "Bronnyyy!" and he meowed and ran over to me.

What an exciting time!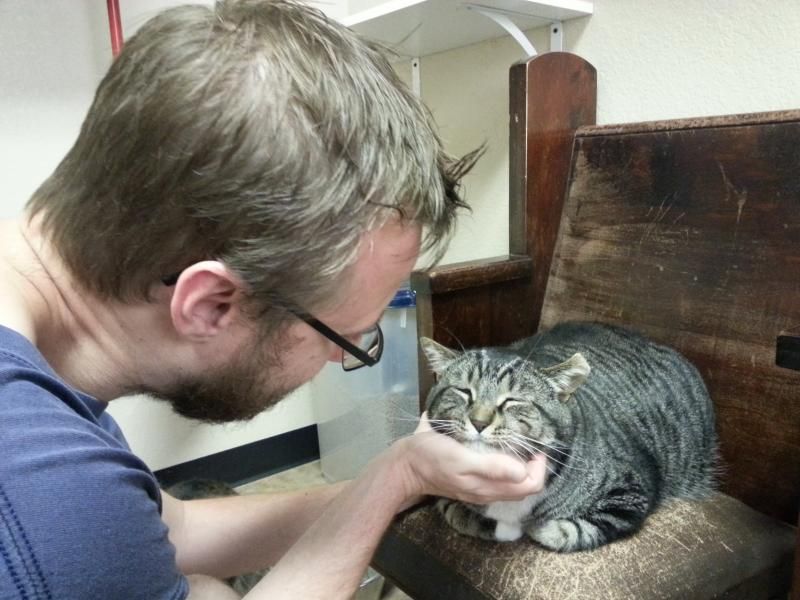 Brandon meets Bronny.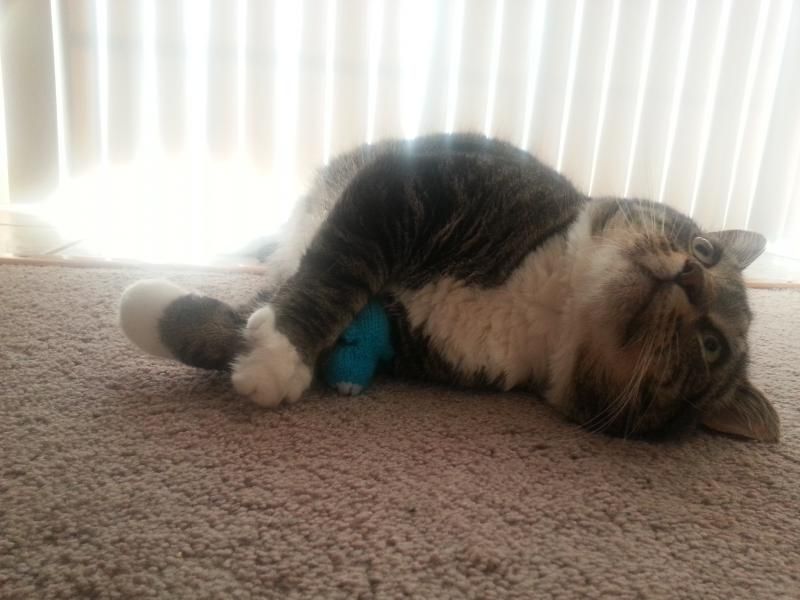 Bronny's first moments of playing at his new home! Brandon got him a little catnip-stuffed knit teddy bear.

While Brandon was filling out the adoption paperwork we learned that when he first arrived at the shelter, he'd had a clean cut on his right paw that had taken two of his toes off. You can see in these pictures that he's missing a part of his paw.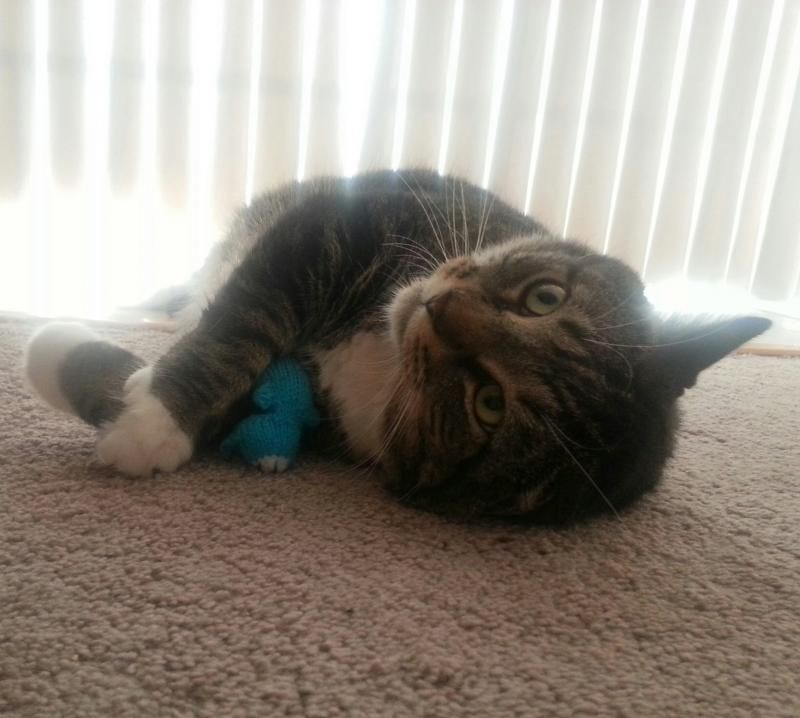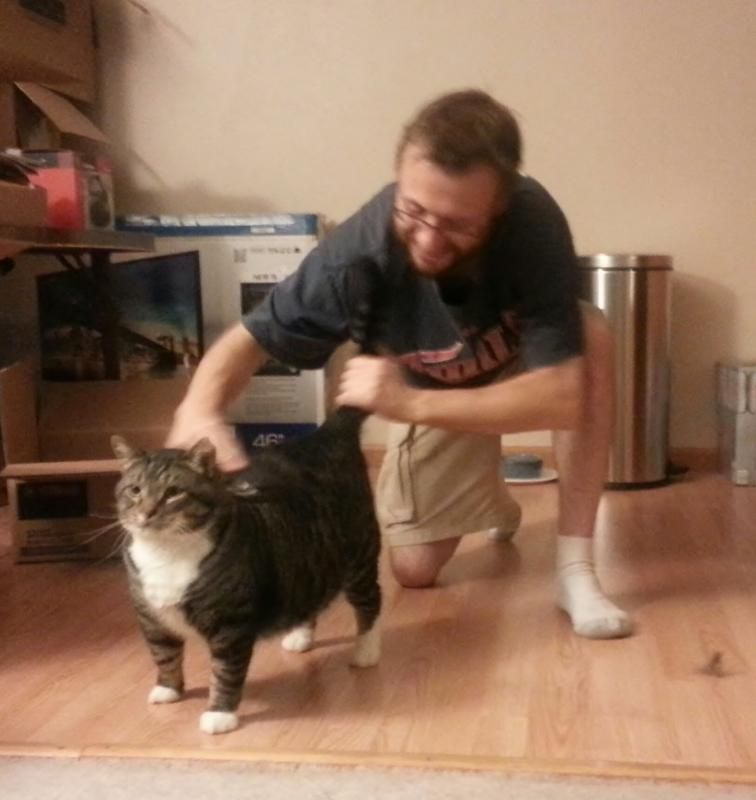 Brandon brushing Bronny.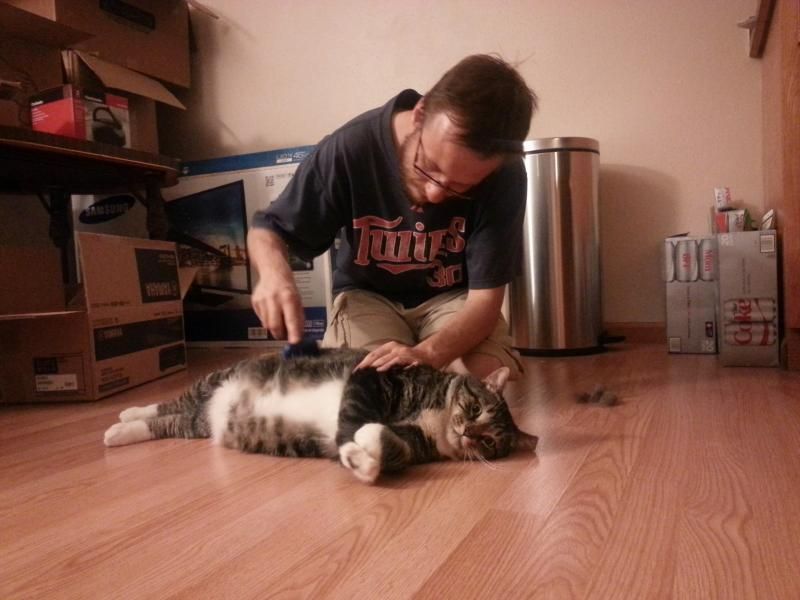 He likes it.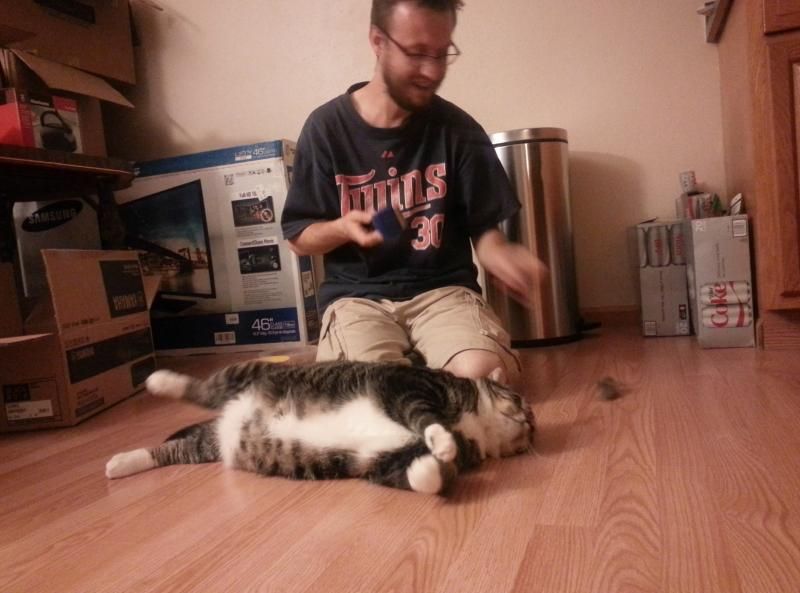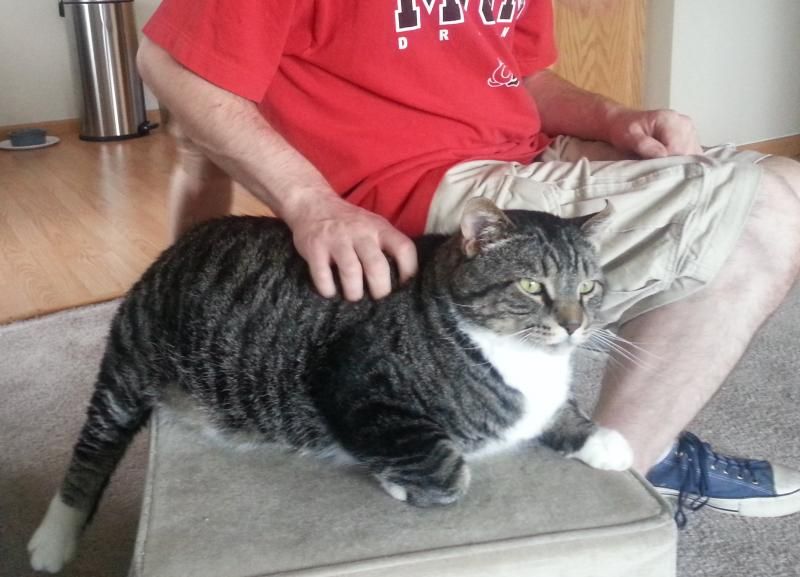 Big, beautiful cat. This was day 2, right before Brandon surprised his mom with a new cat in the family when she came to pick up her car.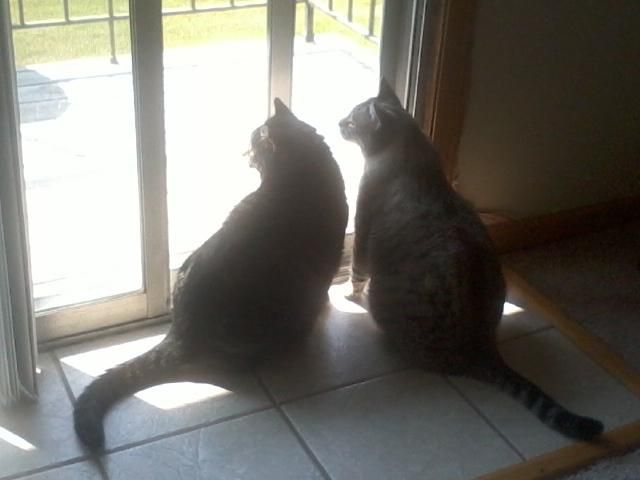 Bronny (l) and Riley (r). Already buddies. (photo credit: Brandon)